6-9 MAY – FOUR SEASONS HOTEL, SHARM EL SHEIKH
After the successful Congress in Cyprus in May 2023, EDS is kickstarting the Euromed Congress in Collaboration with the Egyptian Desalination Research Center For Excellence in Sharm El Sheikh from 6-9 May 2024 at the Four Seasons Hotel.
We are also delighted to announce that the Event is under the auspices of His Excellency Minister of Agriculture, in cooperation with the Technology Innovation Commercialization Office (TICO) office of the Desert Research Center.
This conference serves as a global scientific platform where specialists from International and Egyptian Universities, Research Institutions and Industry discuss the most recent methods for sourcing alternative water sources and energy to keep up with sustainable development in line with the 2030 Egyptian plan.
You need to attend this Event to contribute to Egypt's forward-thinking and exciting future.
---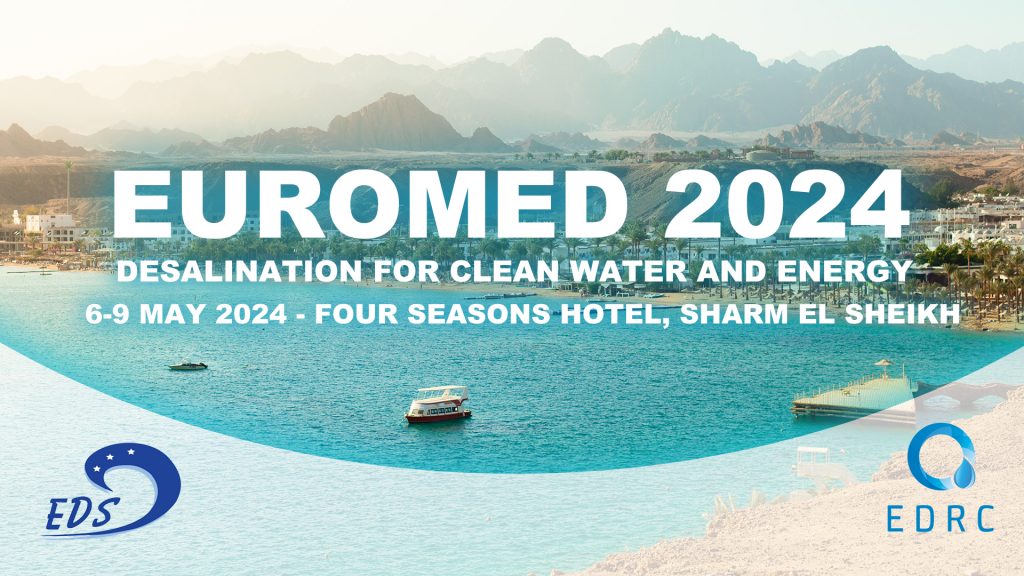 ---
---
Four Seasons Hotel Sharm El Sheikh
Cascading down the hillside from the desert to the Red Sea, Four Seasons Resort Sharm El Sheikh welcomes you to an Arabian fairytale with year-round sun; sleek, modern accommodations; over 3,000 palm trees and panoramic sea views. Limestone cliffs embrace a kilometre of private beachfront with crystal-clear waters and access to a protected marine reserve. Now transformed after a major expansion, our Resort rises to new levels of world-class luxury. Discover spacious new guest rooms and oversized suites – with a choice of modern design or traditional Arabian décor. Delight in a multitude of al fresco dining options, new playgrounds for leisure or business, and authentic desert and sea adventures where every detail is elevated with thoughtful Four Seasons care.
---
---
More
---
Desalination for the Green Hydrogen Economy
EDS and DECHEMA have decided to move the Desalination for the Green Hydrogen Economy event from the 12-14 February in Frankfurt to a one-day programme on the 6th of May at the EDS Euromed Event in Sharm El Sheikh at the Four Seasons Hotel from 6-9 May.
---
---
SPONSORS
---